The Think Earth Foundation is an environmental education non-profit that creates elementary level curriculum. Think Earth teaches elementary school students how to be more aware of their environment and to develop habits that can help conserve natural resources, reduce waste, and minimize pollution.
For a Think Earth rebranding, I needed to update the Think Earth experience, bringing it out of the 80's and into the 21st century, in order to attract teachers' attention and encourage them to use the program in their classroom.
I focus heavily on typography and creating visual interest with Think Earth illustrations.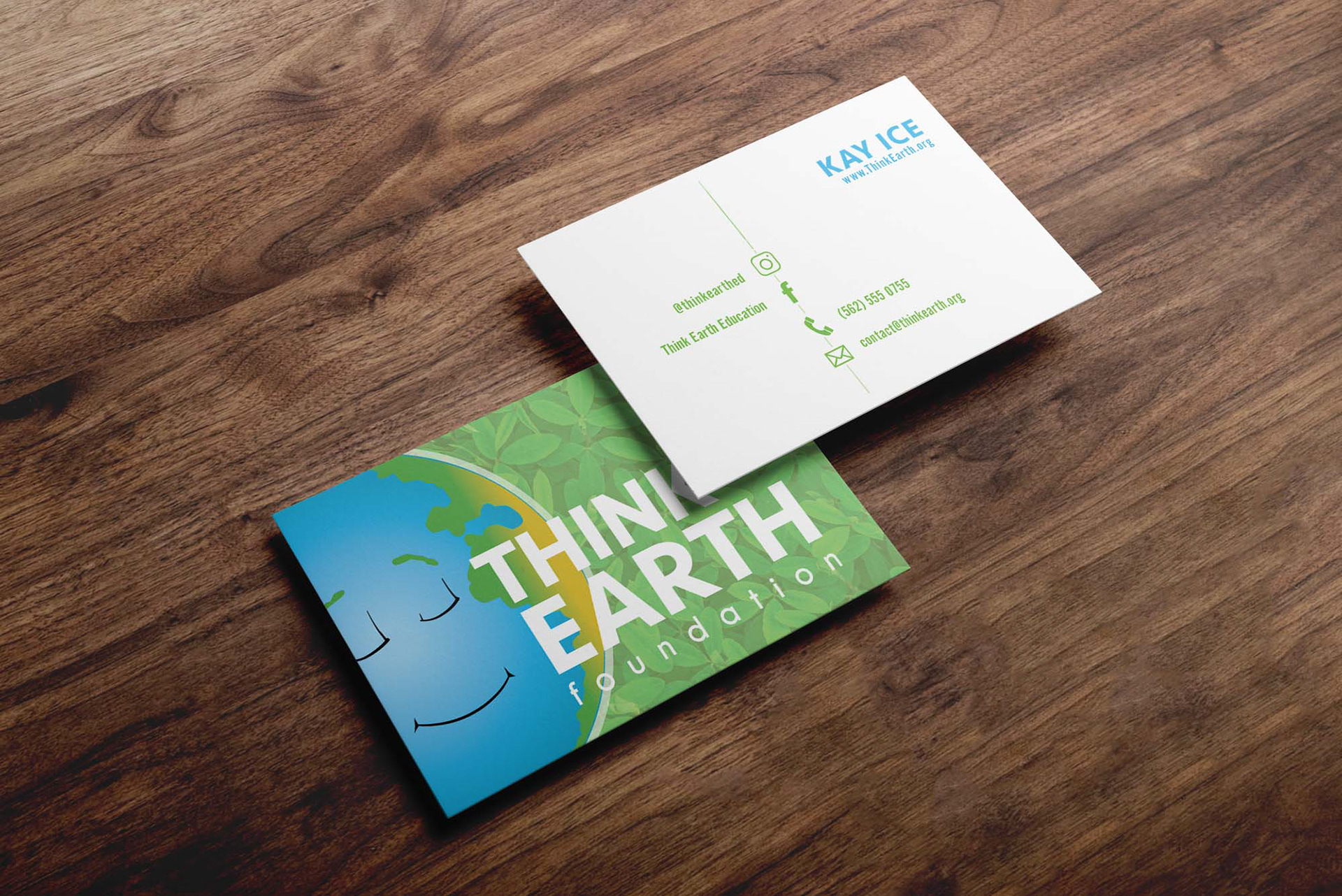 Here are some examples of teacher flyers and pamphlets that have been handed out to teachers at conferences.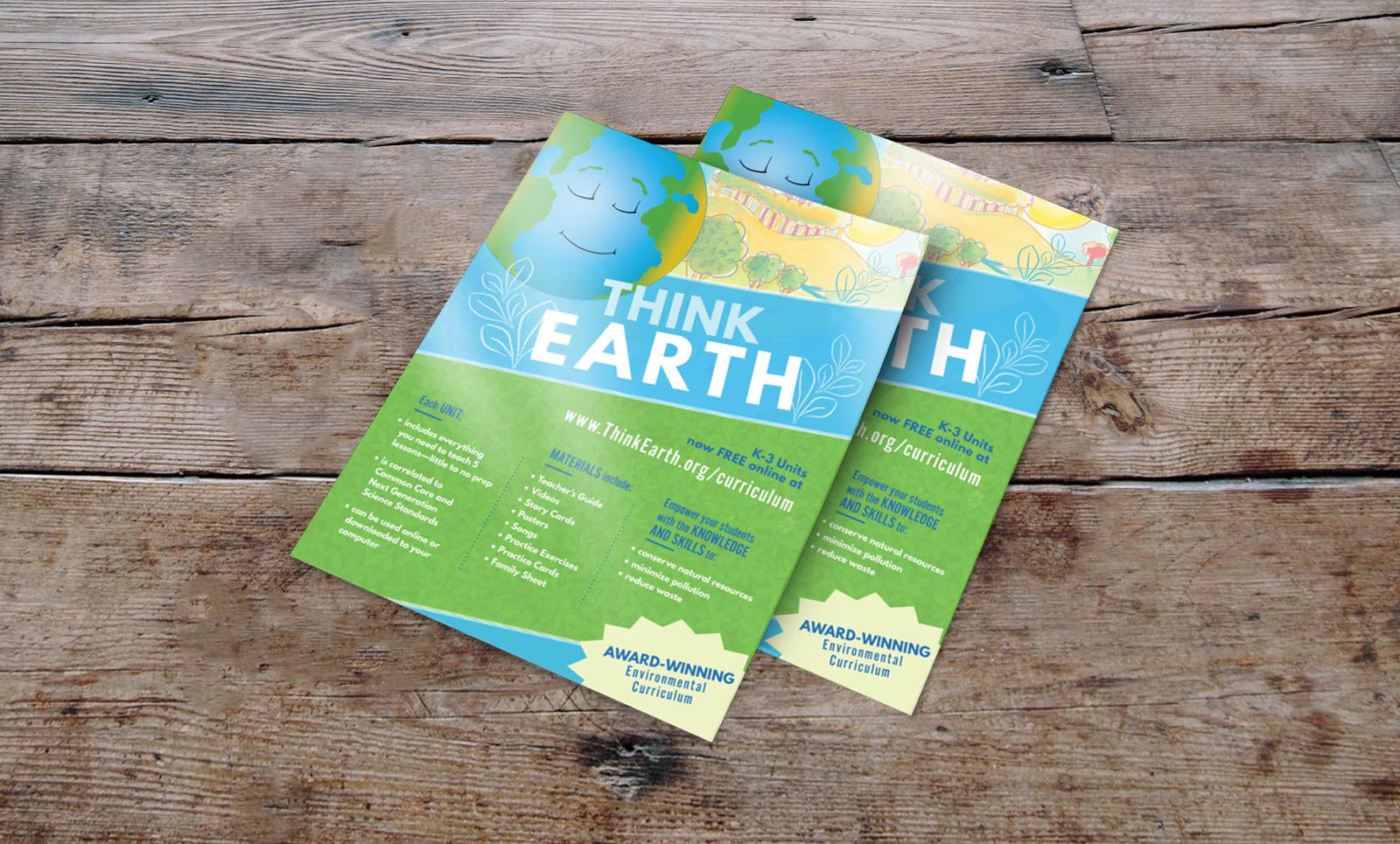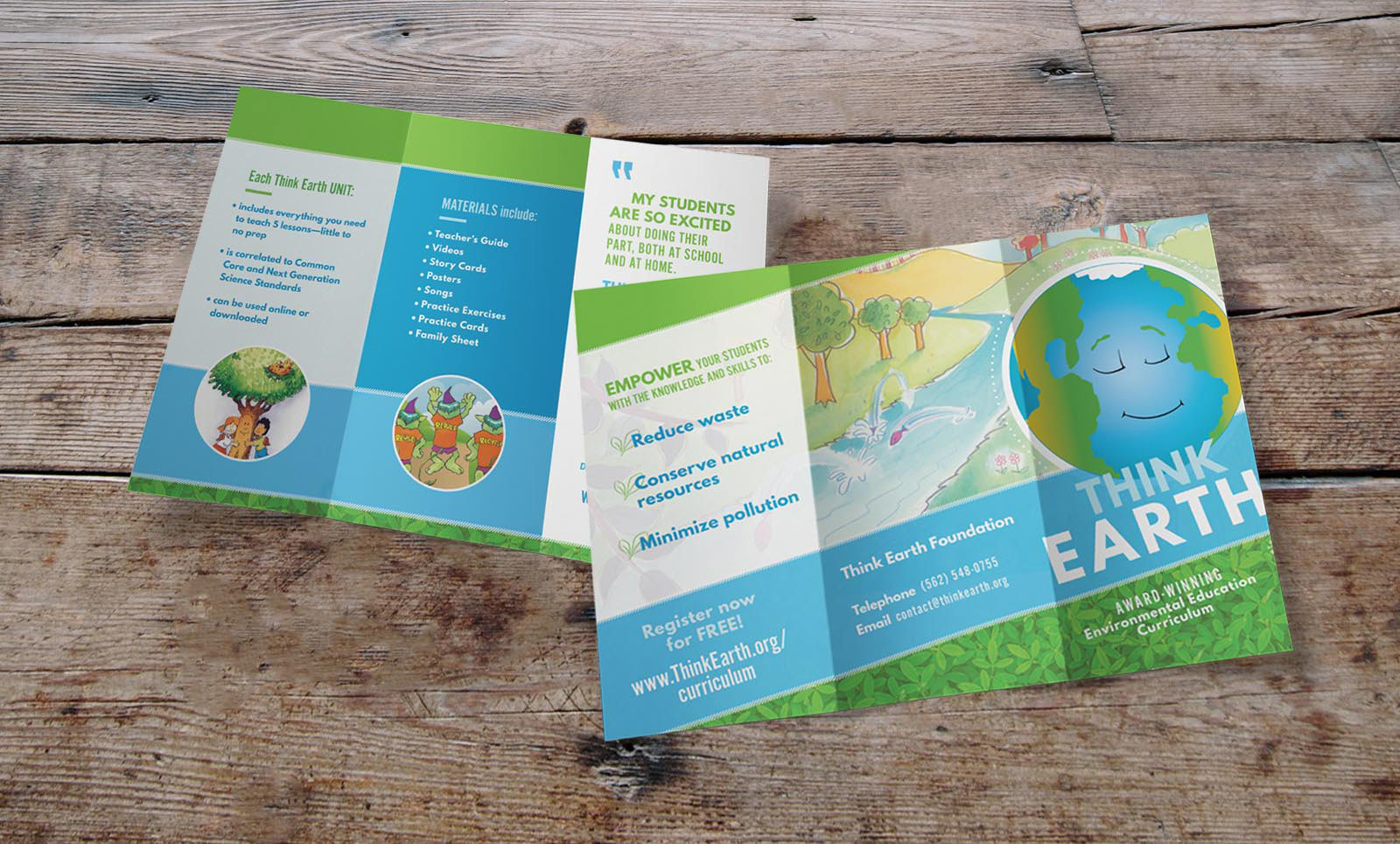 For handouts like this, my main priority is to create a visual hierarchy, focusing on typography. I also combine shapes, textures, and illustrations from Think Earth curriculum.
With informational flyers for donors, I like to feature photos of school kids on Think Watershed field trips.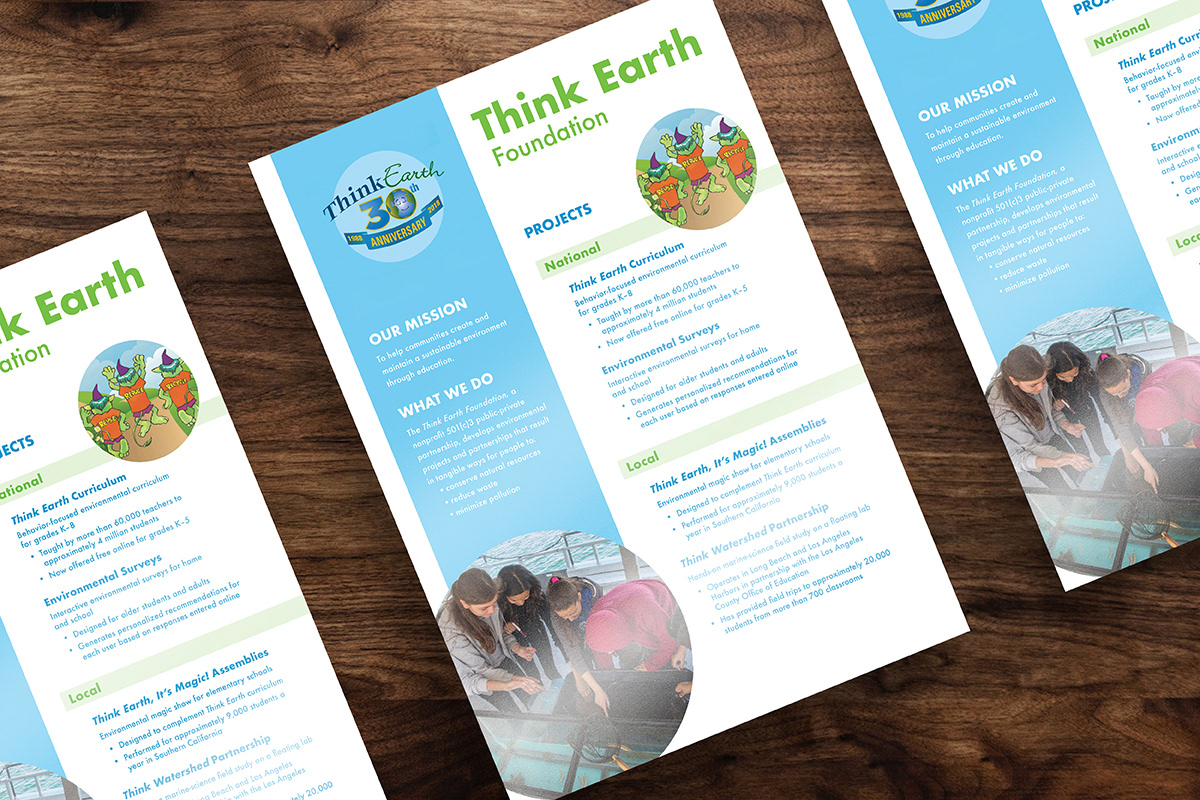 I created the e-invitation for Think Earth's 30th Anniversary. Donors were invited to board the boat used as a "floating lab" for Think Watershed field trips.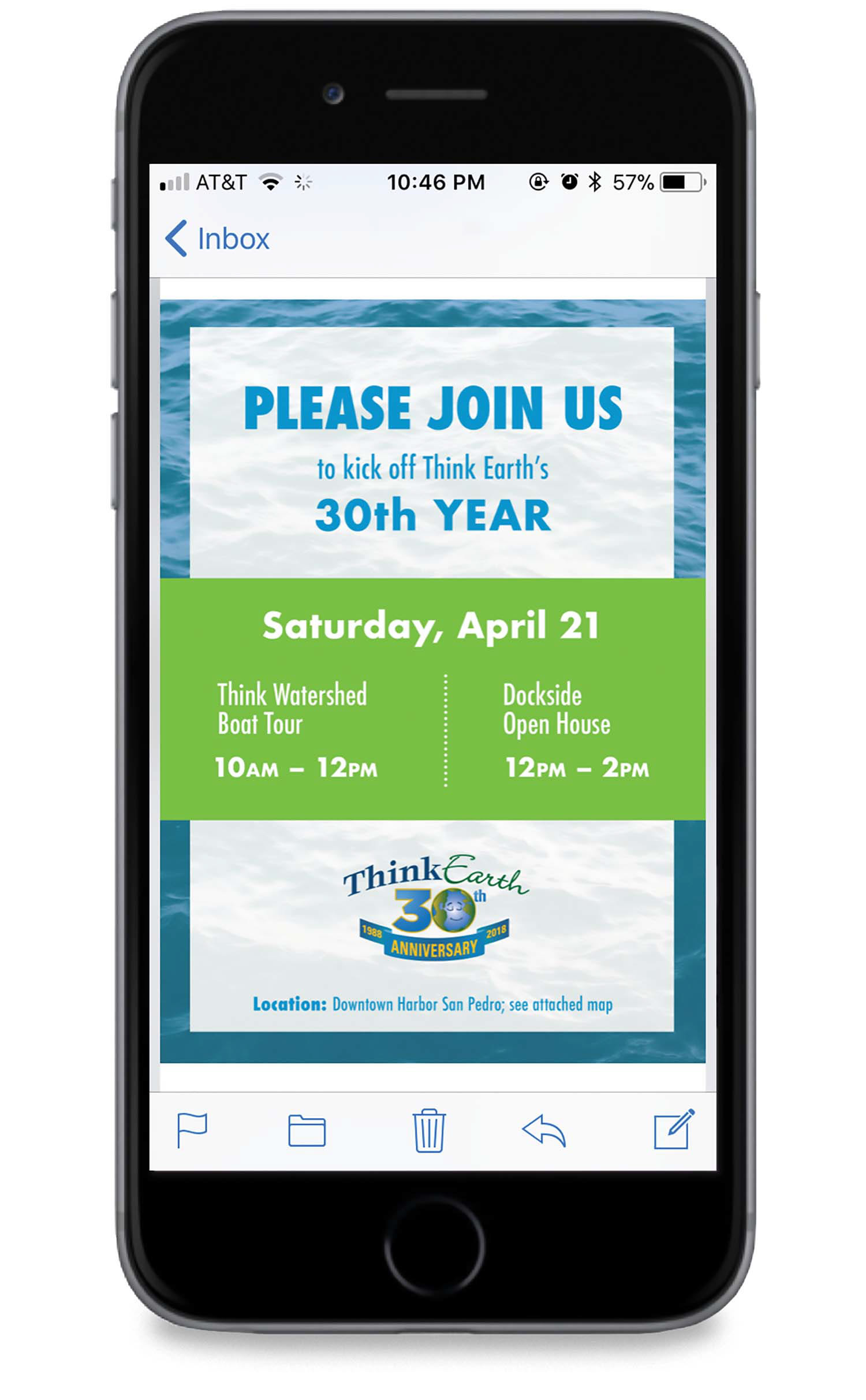 In order to direct more teachers to the Think Earth website, I designed web banners and social media posts for Facebook and Instagram. The bold images and clean typography catch the eye and draw the viewer in. Using a small sample from the Think Earth curriculum,  teachers were given a taste of the lessons they can use in their classrooms.
Think Earth's main project, Think Watershed, is a program that gives elementary students hands-on science lessons on a "floating lab" boat, collecting data about the sea life they encounter. Through the experience, students learn how their own everyday actions directly affect their environment and the creatures they share it with. The challenge with Think Watershed projects is to stay true to the look while simultaneously keeping them under the Think Earth brand.
On a Think Watershed field trip, students participate in science labs, checking off creatures as they spot them. In an effort to make this data collection more efficient and educational for the students, I redesigned these activities from loose worksheets into a compact workbook.
During the pandemic, Think Watershed's "floating lab" trips were put on hold. "Virtual field trips" were introduced as a series of videos. I provided the graphics, compiling existing Think Watershed artwork, finding new graphics, and creating new ones from scratch.
The challenge was to first capture the attention of elementary students, and then teach them about a variety of topics in an engaging way. I also had to design in the style of the student workbook that the students would be following along with.